The smart matchmaking software for B2B events
It offers the attendees of your event a quality networking ambience based on their interests and profiles, and save time setting up a complete meeting schedule in a single click.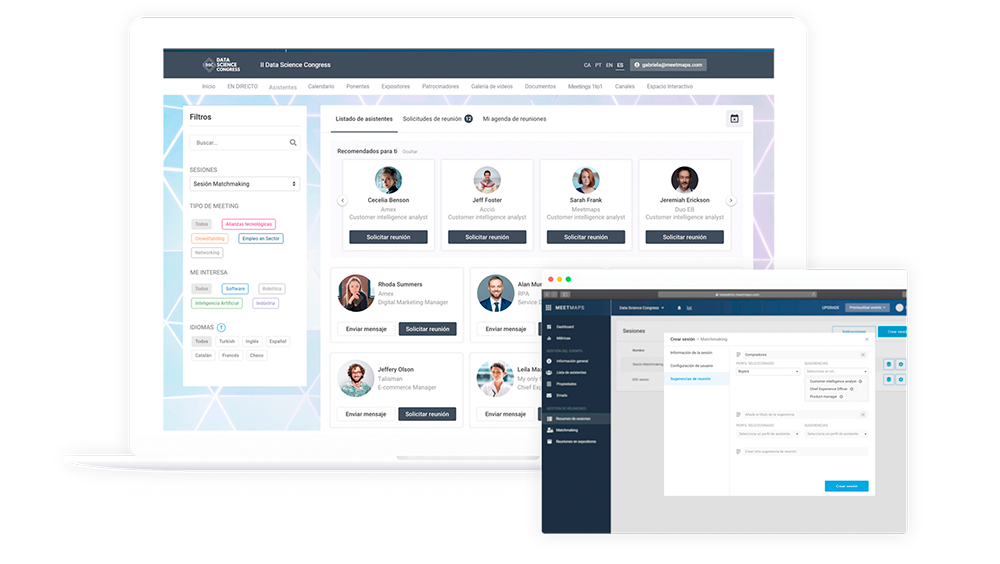 More than 200 companies and organizations already trust us: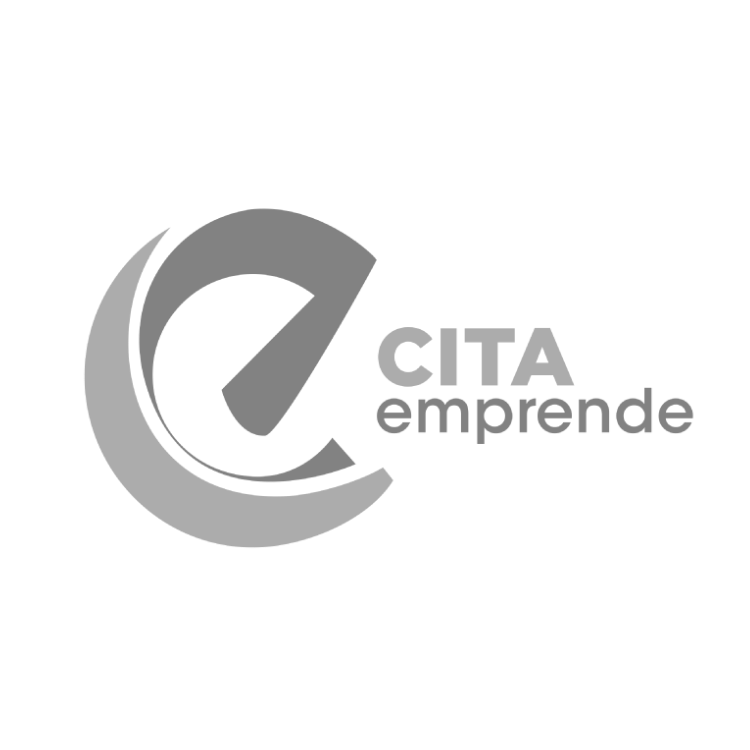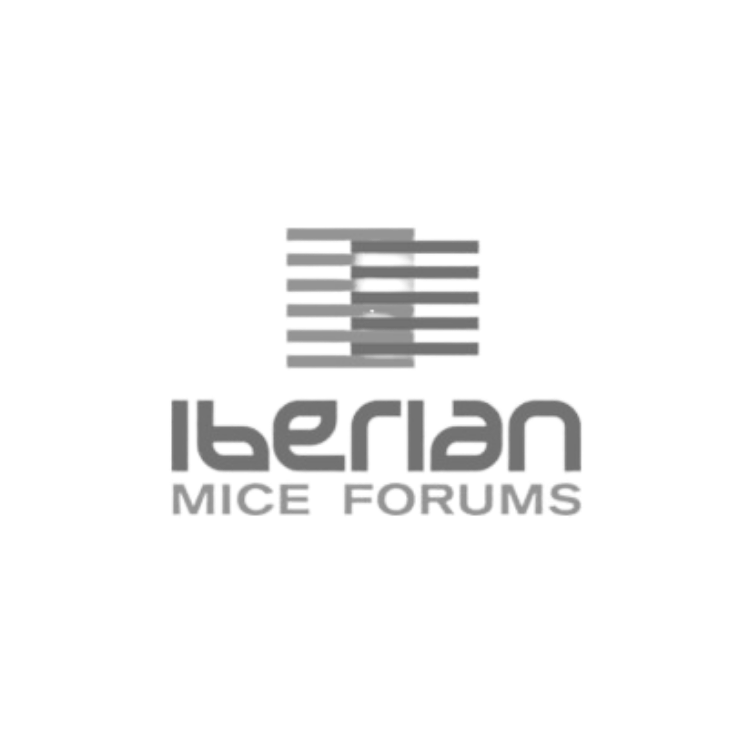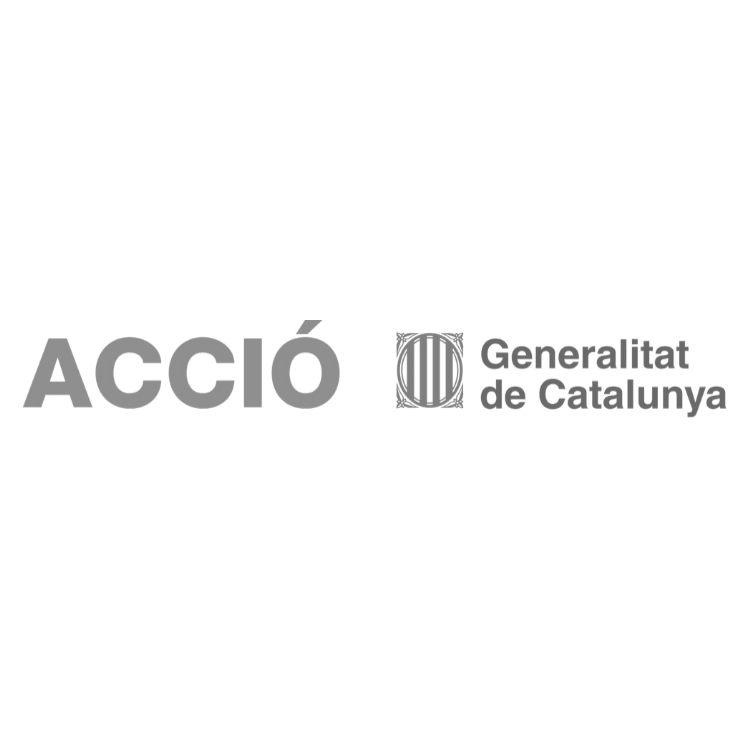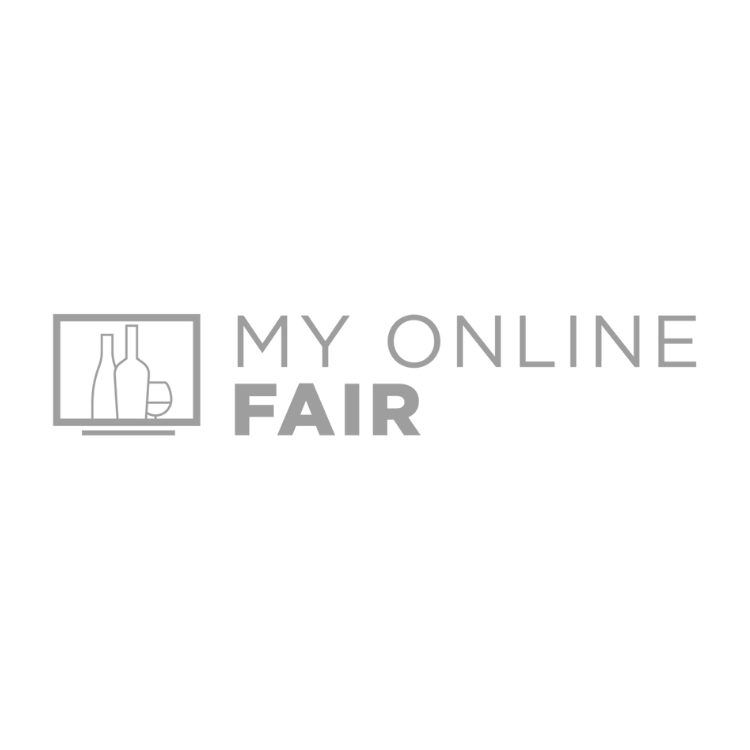 Matchmaking for B2B professional meetings
What is the new Matchmaking tool of Meetmaps?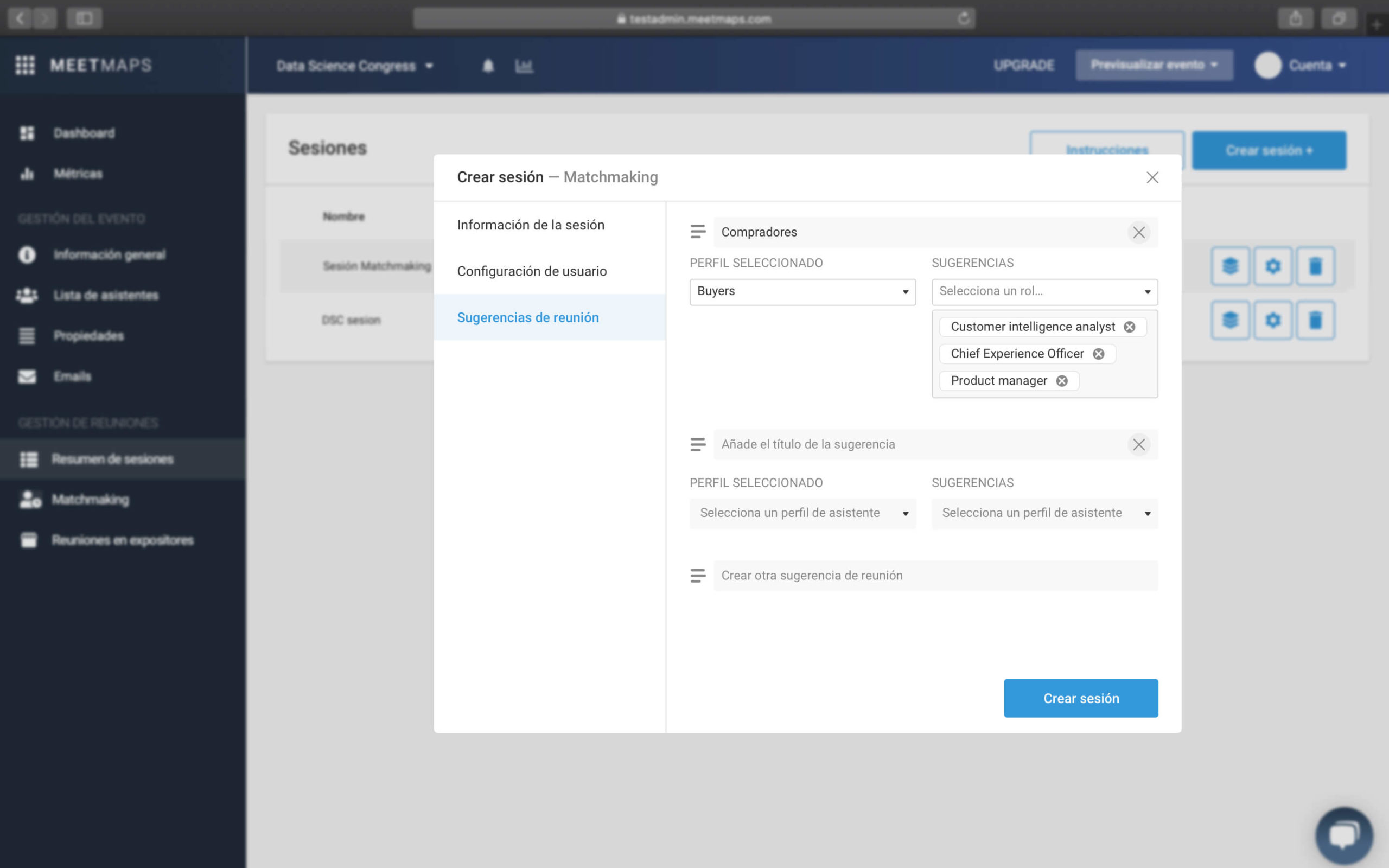 Tool for organizers that allows the generation of quality and structured networking for the attendees.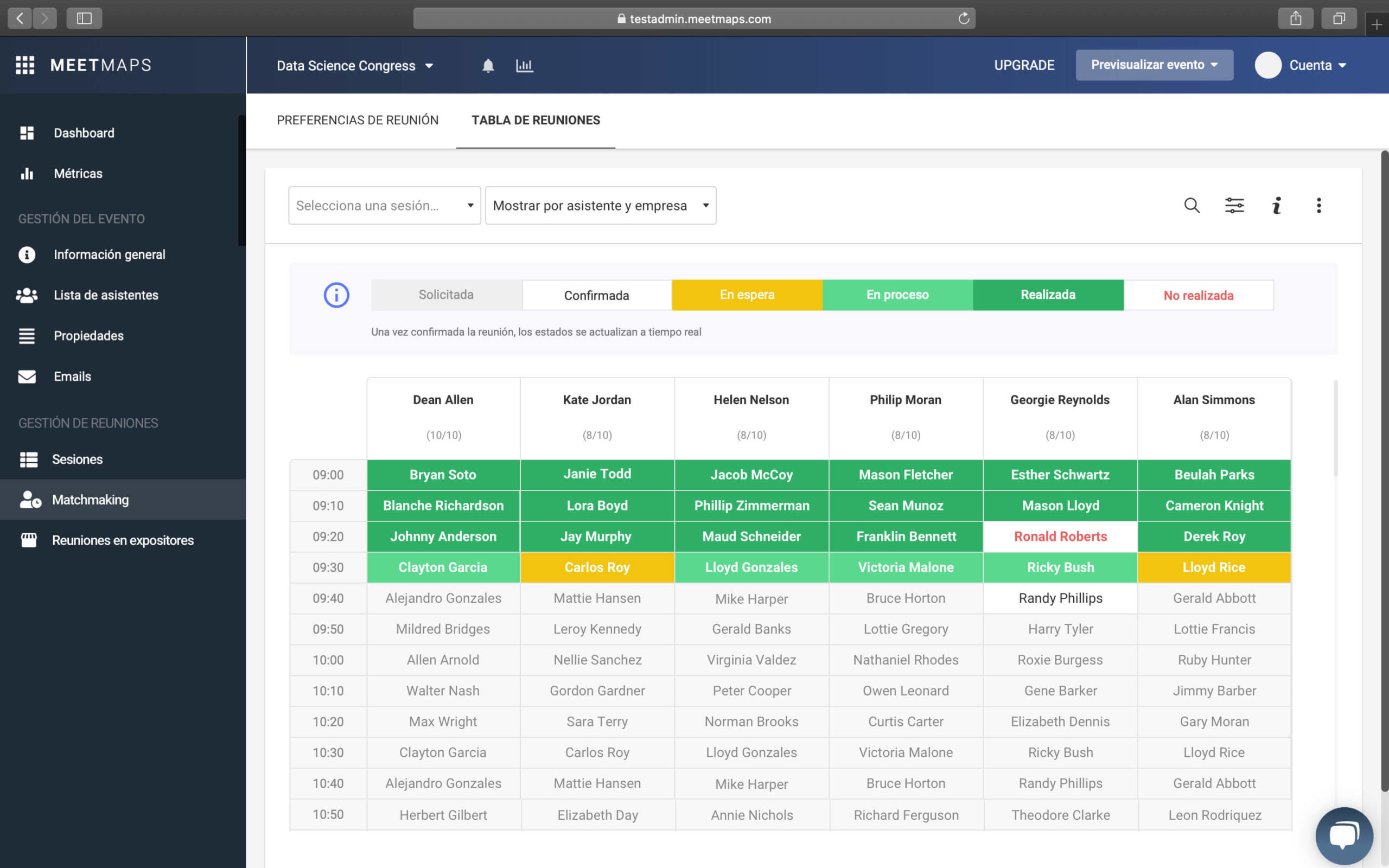 Generation of a meeting pre-agenda according to the interests shown. Leave long Excel sheets behind!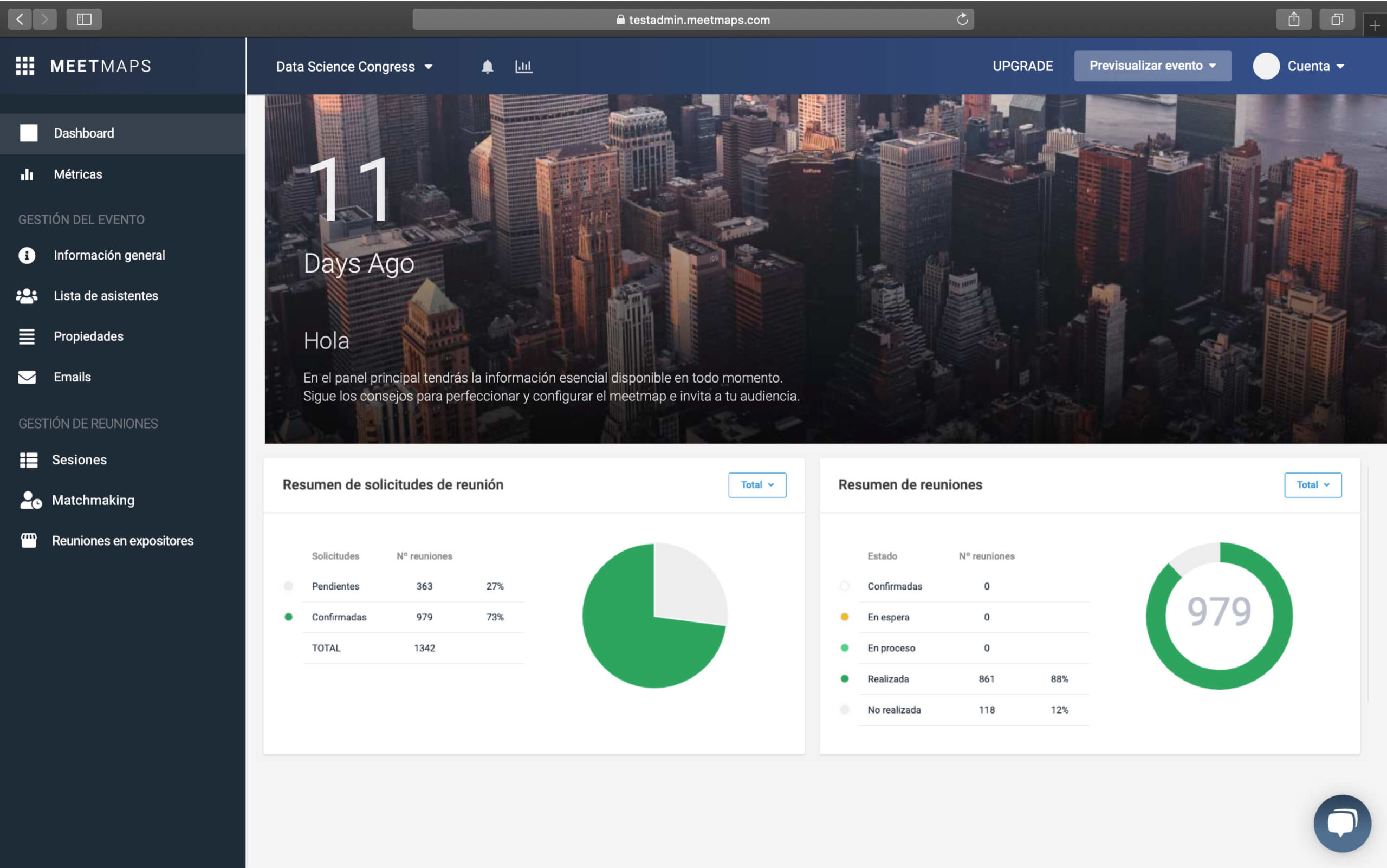 Metrics and updated data in real time in order to keep a constant control of how the event is going.
"Meetmaps was the perfect solution for our virtual matchmaking. Each attendee was able to find contacts of interest, manage their agenda and go from one appointment to another in a timely, easy and with the highest quality."
Take control of the attendees preferences
Gather the interests of the participants
Open a period of time for the ateendees in order to review profiles and send their preferences
Manage the preferences of each attendee
Take a view of the match quality from the dashboard, thanks to your meeting guidelines and sent preferences
Add new meetings as an organizer
Generate a bag of possible new meetings manually or automatically
Generate schedules in one click
Assing a schedule to each meeting in a personalized way and create agendas instantly
Increase networking at your event with quality meetings for your attendees
Connect professionals based on their interests
Thanks to the previous online registration of the attendees, you will be able to collect the interests of the participants of your event depending on what type of meetings they are looking for, sectors or professionals with whom they want to meet.
With this information, you just have to add it in our software and it will do the rest of the work for you.
Learn more about online registration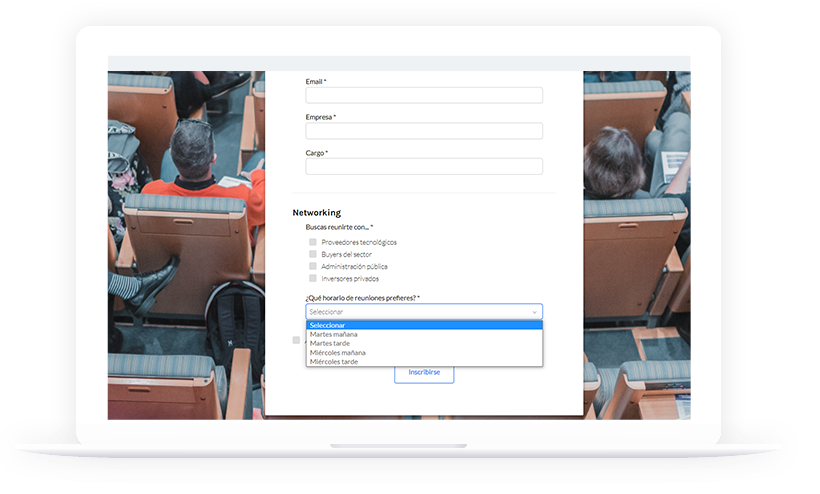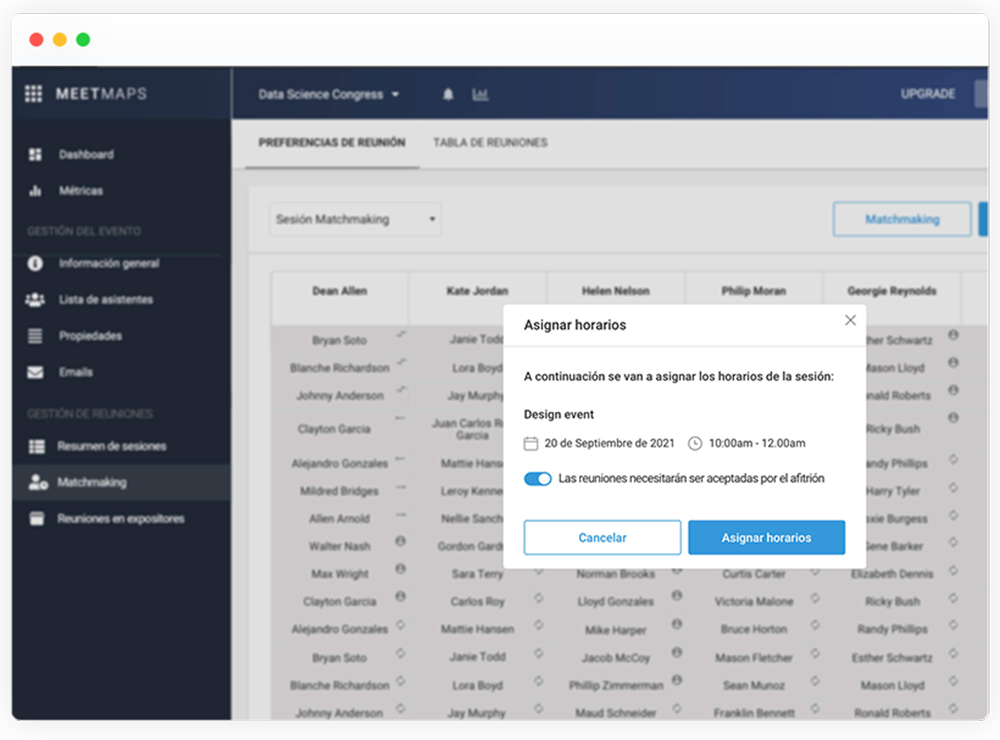 Generate a pre-agenda in just one click
Our software offers you a complete meeting agenda with the schedules, and as an organizer you can edit the agenda and make modifications.
Participants to your event
Interaction and engagement between participants
As an organizer, you take the control!
Our networking tool allows the administrator to create meetings that our algorithm reccomends as well as take into account the specific interests of the attendees. We adapt it just like you want it!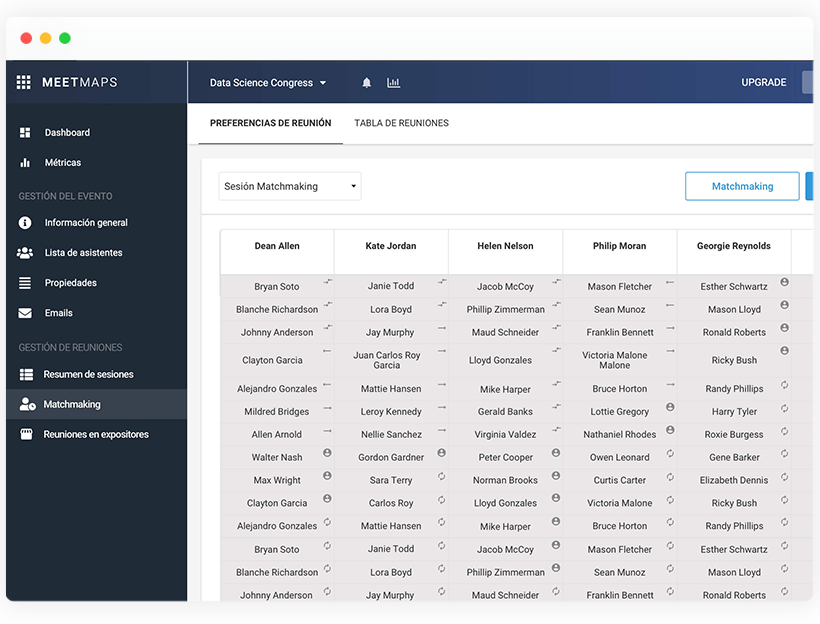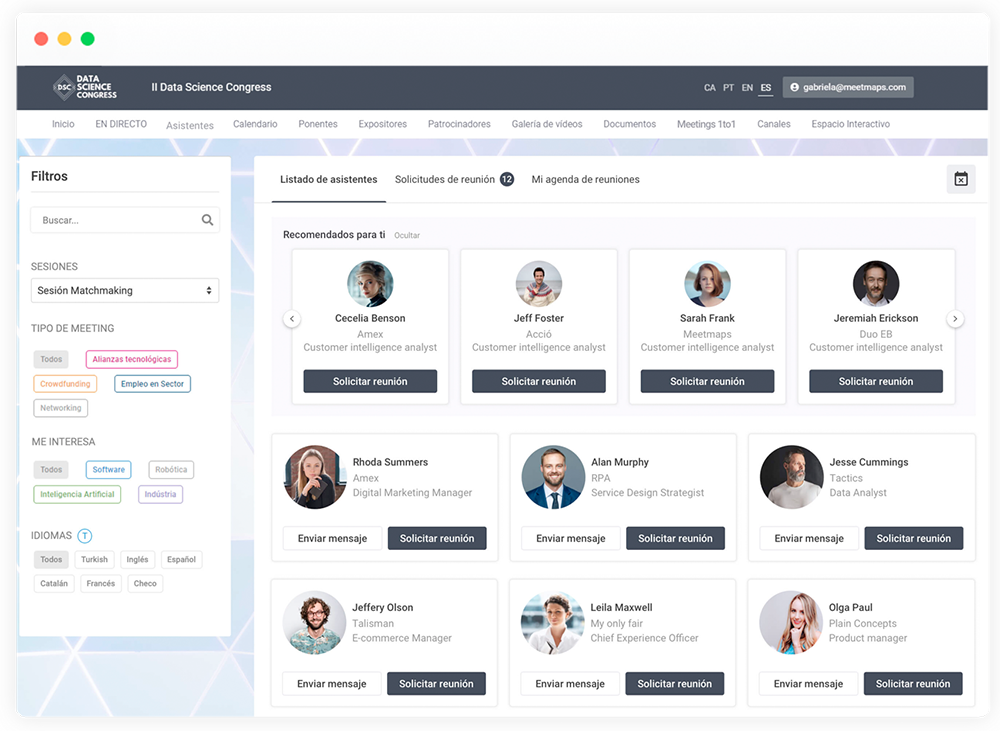 Once the attendees preferences are introduced, our algorithm tracks similar profiles and interests and finally, it will show each attendee, meeting suggestions in order to create the perfect match.
In this way, valuable meetings are generated and they will provide opportunities to the participants, and as an organizer you will save management time.
You will be able to check the status of the meetings at all times, see the feedback of the atendees with the appointments they have made, filter them by sessions and have everything updated instantly.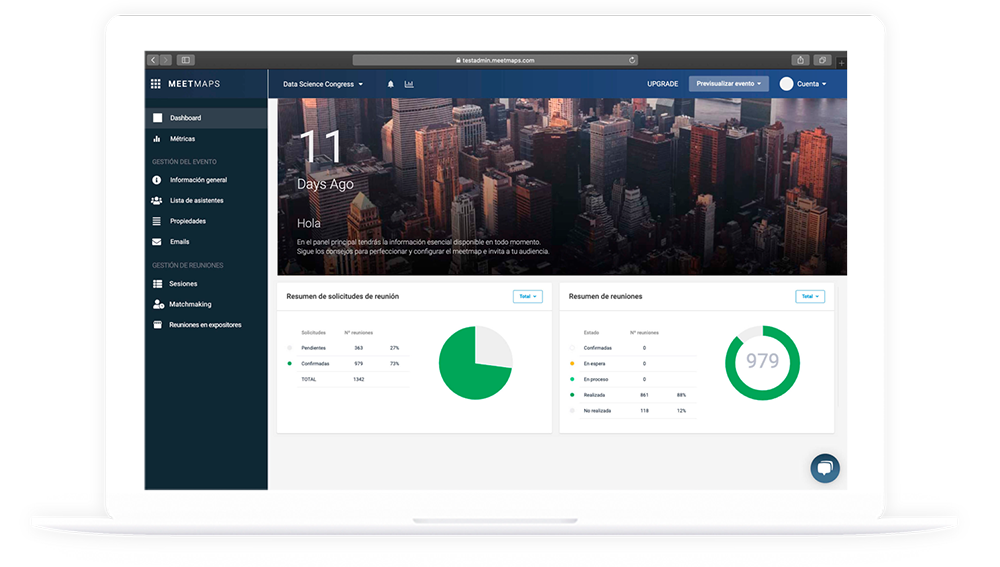 Other features to complete your networking tool
Slots blocking
Attendees will be able to block hours in which they are not available to attend presentations or other activities of your event.
Publication of agendas
Publish agendas on the event's app or website so that attendees can see the meetings, access the profiles and contact them via private chat.
Attendees finder
As an organizer, you can search the attendees by their name from the control panel to check their meetings or solve any specific detail.
Assessment and feedback
At the end of the meetings, attendees will be able to assess the outcome of the meeting and leave a comment that will be able on the panel.
Networking available for all screens and event formats
In-person, hybrid or virtual, our Event Management Software offers you networking functionalities so that your event connects attendees
Event App
Attendees will have access to the list of attendees and their scheduled meetings at your fingertips, being their ally throughout the face-to-face event.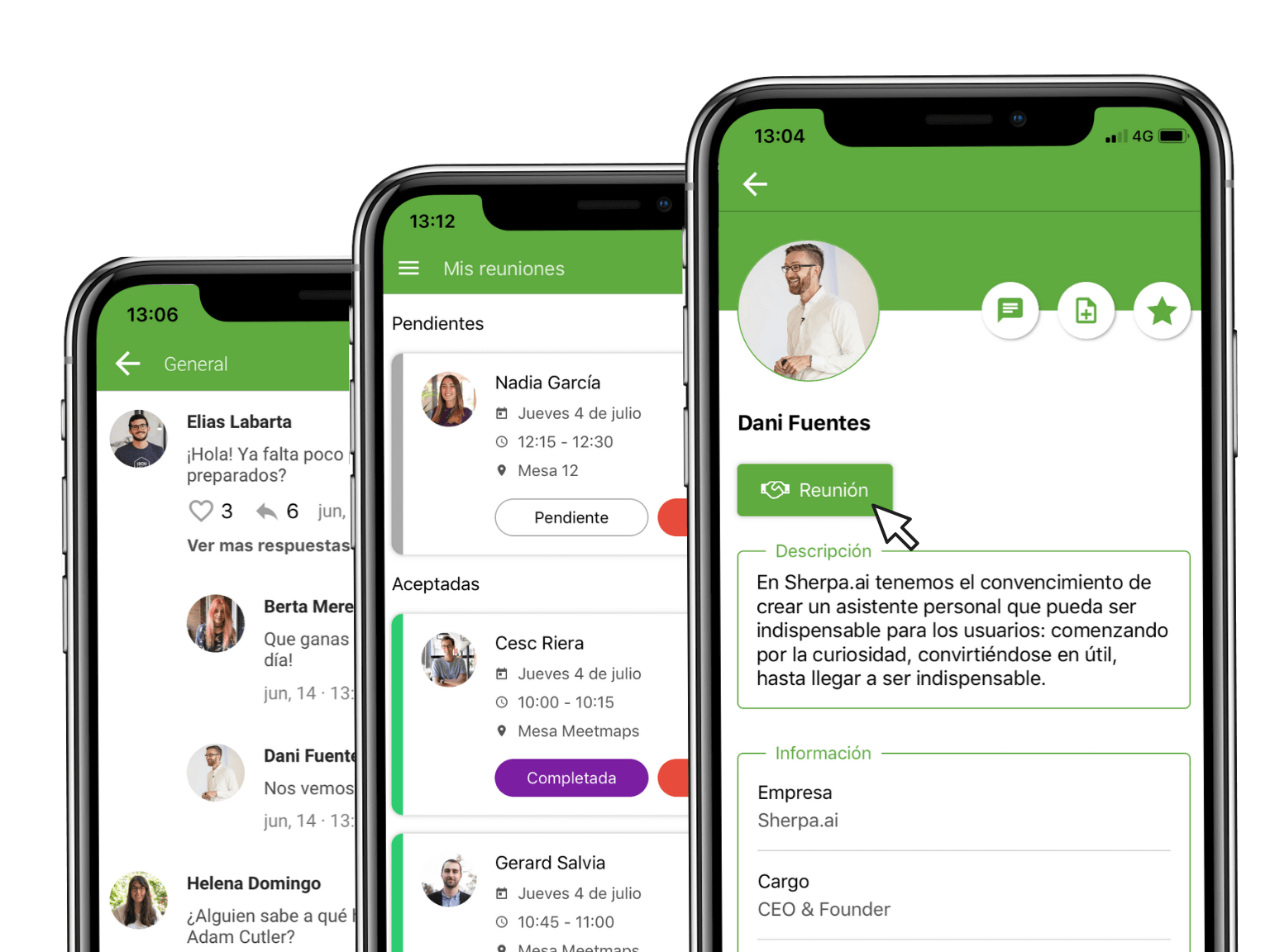 Virtual web event
Through high-quality video call meetings and an intuitive design, the attendees of your virtual or hybrid event will be able to consult the networking sessions and make appointments from the virtual web event.